1973.5 | Porsche 911 T | Targa - Chartreuse - For Sale
$135,000.00
VIN #: 9113111867 Engine #: 6134990 Engine Type: 911/91 Trans. #: 7339434 Trans. Type: 915/02 Exterior: Chartruese Green Interior: Black Leather / Pepita (Houndstooth)
History
1969 ushered in several dramatic changes to the A-series 911 including the first major change to the chassis. To better balance weight and increase handling, Porsche decided to lengthen the wheel base by moving the rear wheel back 57mm. The 2.0 liter engine was redesigned to now utilize a magnesium block (rather than aluminum) mated to the familiar 901 transmission. The T (Touring) were equipped with weber carburetors and produced 110 horsepower. The E (Einspritzung, German for "in-spray") and S (Super or Sport) models were equipped with the new Bosch mechanical fuel injection (MFI), allowing the 911S to now be compliant with North American emissions standards.
In 1970, Porsche decided to change the displacement on all models from the traditional 2.0 liter to a 2.2 liter coupled to the familiar 901 gearbox. The 911 E and S models remained equipped with the Bosch MFI system. The 911T came with Zenith carburetors rather than the beloved Webers and were capable of putting out 125 horsepower.
In 1972, Porsche changed the engine displacement yet again and placed a 2.4 liter engine in their 911T, E and S models due to the North America emissions. Emissions requirements demanded a lower compression ratio, so Porsche decided that by raising the displacement they could make up for the lost power due to the lowered compression. These models still utilized a magnesium engine block, however all of the models (including the T) were now equipped with the favored Bosch mechanical fuel injection system. Porsche had also designed a newer and stronger transmission for these models, abandoning the dog-legged 901 for the 908-inspired 915 gearbox.
Half way through 1973, Porsche decided to incorporate the new K-jetronic fuel injection system (also known as Continuous Fuel Injection or CIS) in the 911 T models. This new system drastically improved the reliability of the 911 while providing significant gains in fuel economy. The system was so efficient that Porsche continued to utilize it for the next 10 years (up until the release of the Carrera in 1984), contributing to what many consider to be the most reliable air-cooled 911's made. Often referred to as the "1973.5 911T", these models were capable of getting up to 30 mpg and are quite desirable due to their iconic longhand 911 body style coupled with the reliability and drivability of the later G-body cars.
Restoration
This Particular 911 has recently gone through an extensive restoration by our team here at Makellos Classics. The body was stripped to bare metal and repainted in its original and extremely rare color of chartreuse green using high quality Sikkens paint. All components including trim have either been refinished or replaced to ensure a factory-fresh appearance.
The interior was completely reupholstered in black leather and vinyl with pepita (houndstooth) inserts by the Porsche interior specialists at Escondido Custom Upholstery. The numbers-matching engine has been completely disassembled and rebuilt to original specifications, replacing or reconditioning any necessary parts. The numbers-matching gearbox has also been rebuilt using stock gearing and shifts excellent. Every component on the suspension and brake systems has either been refinished, rebuilt or replaced making for a very enjoyable and like-new ride. The wheels have been refinished in the correct hard anodized and painted style and are riding on the era correct Michelin XWX tires.
This is a very high quality restoration done by our team here at Makellos Classics and is ready to be enjoyed by its next owner.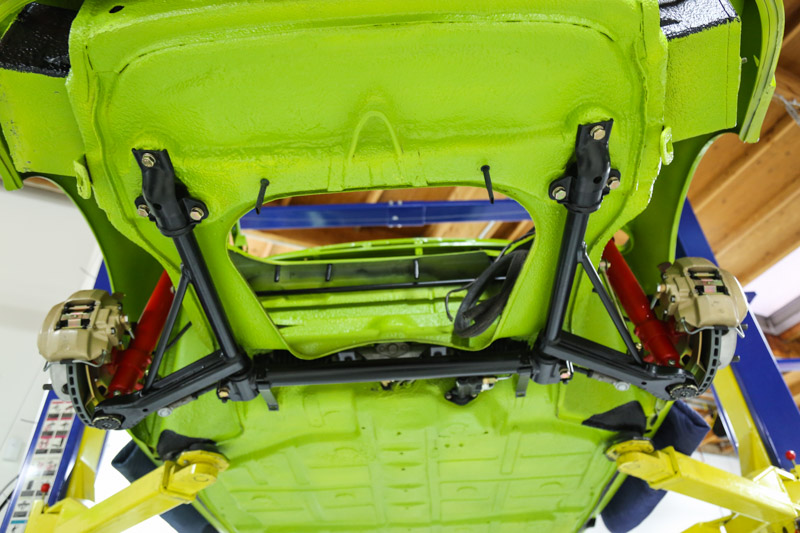 Want to make this yours?
Price: $135,000
Matt, Owner of Makellos Classics, speaking about 73 911T Targa in Chartreuse- a classic Porsche collectible:
"I grew up with my dad having a 1973 911 E Targa, so it was kind of like my first love with Porsches- and with cars and general. And then that car kind of just... you know, I liked other cars, but that car just was the car that I always loved and always wanted. So we got the Chartreuse (1973 911T Porsche), from Idaho. Um, found it online and once I saw it was matching numbers and the original color was Chartreuse Green, which was extremely rare-- I thought it would be a good candidate for restoration. So once the body work was all done and it was painted, the assembly to this about probably six months. On a car like this, we go period correct. You know, there's a few updates that we do with cars like this, because it makes for a better car. But as far as the original things that this car came with, we try to, on a restoration car, we try to put those back on the car to make it as original as possible. So seeing it start from, you know, a car that was not the nicest to this... It's just pretty awesome.

This was the first car that I've driven that was just felt like I was back in 1973 driving a Porsche, you know, a brand new Porsche.

It's just rare when you go places and you get to take the car to a car show or something like that, it's good to see people come up to it and go "oh wow," and a lot of them don't even think it's the original color of the car. This was the first car that I've driven that was just felt like I was back in 1973 driving a Porsche, you know, a brand new Porsche. So I think that's just super cool. And to get in this car, and there are things that may have been put on this car that make it a little better than back then, but you get in this car and, you feel like you're driving a brand new 1973 911. And that's all something that I wanted to feel especially with my love with my dad's 73' E. I've always dreamt of going back in time and driving a 1973 911 . And the the first time I drove this car, it captured that. So I'm stoked on this car. I don't know how else to put that. I love it."